Virtual Solutions, Real Impact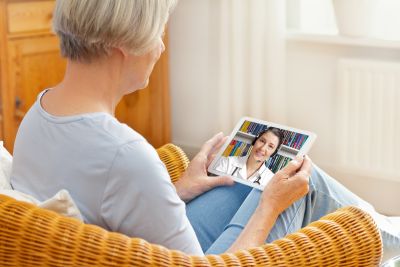 For over 15 years the Carson Tahoe Cancer Center has been a beacon of hope for those in our community battling cancer. As an affiliate of the Huntsman Cancer Institute, University of Utah, our cancer center supports cancer patients from diagnosis to treatment and support, all in one central location.
Enter 2020 and the onset of a worldwide pandemic. As the coronavirus spread, access to habitual services was disrupted and efforts to stay connected to our community proved challenging. Determined to keep patients engaged, video conferencing became the mode of communications, initially through virtual wellness classes, nutrition education, and physician visit.
Throughout the pandemic, video conferencing quickly developed into a staple resource. "Mandated isolation caused us to relook at the way were providing services," said Jared Carter, Director Carson Tahoe Cancer Services. "Cancer patients, both in treatment and recovery, often utilize support groups, exercise classes, and education to regain their quality of life. When everything stopped due to the pandemic, cancer patients were still battling the disease. It didn't go away."
Typically, cancer patients would access classes and support groups by attending them in person at the Cancer Resource Center. This year, due to COVID restrictions, that didn't happen. So, the Cancer Resource Center began offering video conference meetings for support groups and expanding weekly virtual exercise classes. These online classes soon became a huge hit with patients, allowing them to seek much-needed support and exercise, multiple times during the week, without having to drive anywhere. The venue also allowed patients to share this platform with those who have been assisting with their support.
Staying Connected through COVID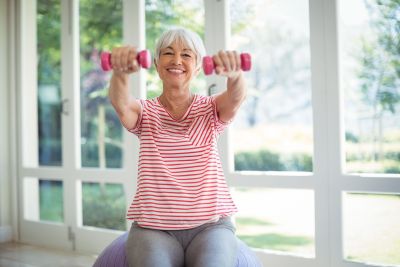 Carson Tahoe Health received a $500 donation from a cancer survivor who wrote on her giving envelope, "Thanks for the Zoom classes!!!" When the Center for Philanthropy called to thank her, she told us that she participates in eight classes per week. Additionally, because of her diagnosis, she and her husband have been extremely careful during COVID, rarely going out and limiting exposure wherever they could. She said that the virtual classes allow her to still feel connected to her friends who she had met through the Cancer Center support programs.
Another Cancer Center donor stated that she hopes the virtual classes continue after COVID because she lives in Minden. She is a senior, and the commute back and forth to her exercise classes was substantial for a 45-minute class, but when on video conference she was able to participate more often.
Increasing Rural Access Through Telehealth.
Video conferencing, evolved out of need, is now part of the new normal. The overall sentiment surrounding virtual support, especially at the Cancer Center, is the joy received by giving cancer patients an opportunity to reserve their energy for exercise rather than traveling.
"Expanding rural outreach has been a goal of ours for years, and we've struggled with figuring out how to keep our rural communities engaged," said Jared Carter, Director Carson Tahoe Cancer Services. "Most of our patients aren't interested in traveling for education, classes, or support groups due to fatigue. They want to stay home. Offering this support virtually is truly making a difference to many of our patients in a lot of different ways."