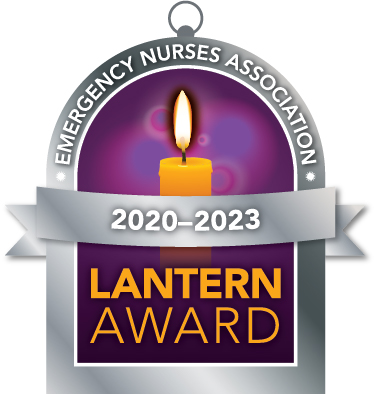 Mallory Emergency Department
Mallory Emergency Department, a service of Carson Tahoe Regional Healthcare, features 24-hour emergency care, FastTrack ER, and a convenient triage system. For any of us, chest pain, shortness of breath, extreme fever, much more could require emergency care at any moment. In these and similar scenarios, emergency care should be immediately available and compassionately delivered. Additionally, Carson Tahoe Health is the first and only organization in Nevada to receive the esteemed Lantern Award from the Emergency Nurses Association. The ENA recognizes just 25 emergency departments worldwide that exemplify exceptional practice and innovative performance in the core areas of leadership, practice, education, advocacy, and research. Learn more about the Lantern Award here.
At Carson Tahoe's Emergency Department, patients will be treated in a timely and compassionate manner, thanks to the following features:
Expanded capacity including a FastTrack ER
An efficient triage system
High tech ancillary services
Dedicated emergency care professionals
Triage is the process by which an Emergency Room RN considers the severity of patient complaints and determines treatment priority.
Upon arrival at the emergency department, a patient will fill out a few simple forms, and discuss their chief complaint with a triage nurse
Patients with urgent, yet non-life-threatening, medical concerns will be admitted to the six-bay (bed) FastTrack ER area, staffed by a physician's assistant or a nurse practitioner, as well as a registered nurse.
Patients with life-threatening conditions will be seen by one of Carson Tahoe's board-certified emergency medicine physicians
ER – Bigger, Better, Beautiful, and Elevated by a Progressive Design
18 standard emergency bays
6 Fast Track ER bays, the only ones of their kind in the region
Individual patient bays are much larger with medical equipment that conveniently lowers down from the ceiling, making it easier for staff to maneuver around the patient
A five-bed observation unit will provide an area for testing and observation of patients who need to be monitored but not admitted to the hospital
Staffed by emergency physicians 24 hours a day
Care Flight access with rooftop helipad
The department's soothing color scheme with oversized windows overlooking the Carson vista will help provide an aesthetic sense of calmness during a stressful time
Crisis Treatment at the Mallory Behavioral Health Crisis Center is for anyone who is in a mental health and/or substance use crisis.
Regional Medical Center
1600 Medical Pkwy.
Carson City, NV 89703
(775) 445-8000
Hours
24 hours a day
365 days a year
Carson Tahoe Emergent Care
Emergent care provides the emergency equipment along with the most professionally trained staff who can quickly diagnose and treat a disease at its most decisive stage. Carson Tahoe Minden Medical Center is the only licensed, stand-alone Emergency Room in Nevada. This allows us to provide life-saving critical care in an emergency situation. Emergent care centers are capable of treating a range of conditions, from a sore throat to chest pain stabilization.
Minden Medical Center
925 Ironwood Dr.
Minden, NV 89423
(775) 445-7800
Hours
8 am – 8 pm
365 days a year