Who Can Sell the Most Raffle Tickets?
No, seriously- we are asking.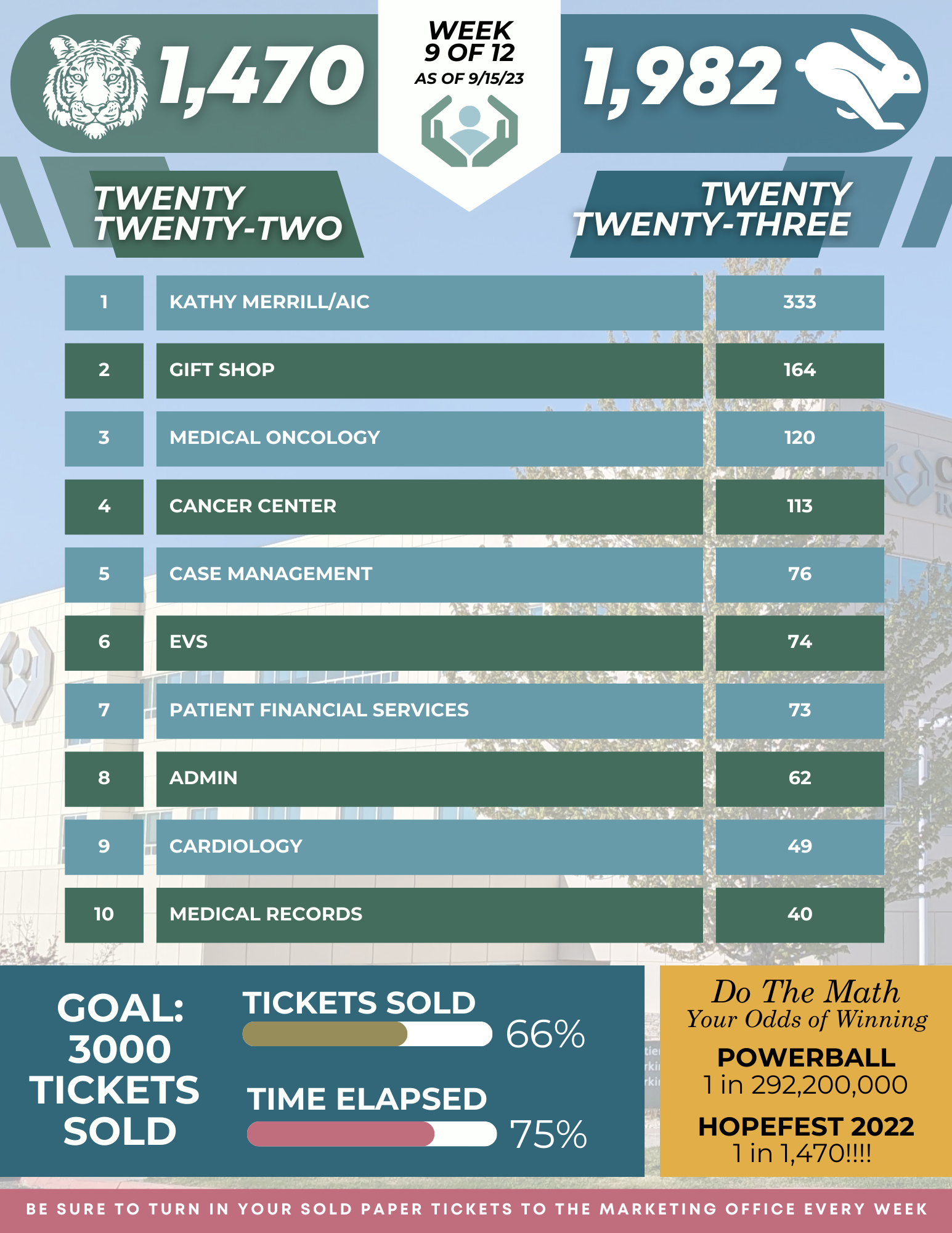 This year the prize is $15,000 and raffle tickets are only $10!!!
This raffle raises funds to provide assistance to our neighbors, friends and loved ones who are getting cancer treatment!
It Pays To Get A Strong Start
Compete as an individual or a department for the following prizes:
1st To 25 Tickets Sold: Free Team of 2 Registration For Cornhole's Best ($100 Value)

1st To 50 Tickets Sold: VIP Tasting at Mayer Family Wines ($100 Value)

1st To 100 Tickets Sold: VIP Music Experience at Nashville Social Club ($250 Value)

1st To 200 Tickets Sold: Handmade Custom Cornhole Board ($500 Value)
---
We Will Be Keeping Score
Look for the Scoreboard in Coming Weeks- we will be competing against last year's sales and between departments for bragging rights all year long.
---
How to Participate:
Sell Physical Tickets
People love a physical raffle ticket, and it has all the information on it to help you sell them!
Pick up physical tickets in the Marketing Department

You will get a group of physical tickets to sell.- either for yourself or your department.
You are financially responsible for every ticket you don't return to the marketing department.
Please take as many tickets as you think you can sell - you can always come get more!

When you sell a ticket be sure to do the following:

Collect the ticket stub.
Ensure the writing is legible on the stub.
Write your name on the back of the ticket stub.
Collect and hold onto the money and stubs from the tickets.

Return all money, ticket stubs and unused tickets to the Marketing Department

Make sure everything is received and recorded (don't "drop it off")
Sell Tickets Online
This is a great option for selling lots of tickets without having to keep inventory!
Cut out the rectangles and write your full name on the sheets
Whoever purchases the ticket need to put your name down when buying for you to get credit (EMPHASIZE THIS TO THEM!)
Yes, you can buy raffle tickets yourself and refer yourself (if you remember to put it in!).
BUT WAIT THERE'S MORE: post this graphic to your social media