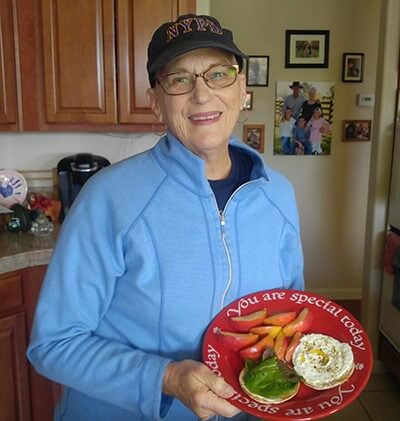 Madelyn, a retired English and special education teacher, has been training to beat cancer practically her whole life. She just didn't know it. "I figured out how to help middle schoolers with learning challenges not to give up," she said. "I believe in doing the best you can with what you have, and I taught that to my students."
Fast forward to 2003. "I had just moved to the area when I found a lump behind my clavicle. I went to see a doctor, who surmised it was probably just a cyst," Madelyn recalled. "But I had it biopsied anyway. It turned out to be non-Hodgkin lymphoma."
Madelyn described the moment of her diagnosis as an out out-of-body experience. "I eat right, I exercise. I couldn't believe I had cancer. I didn't ask why. I just prayed and asked, 'What do we do?'" She had the tumor removed before starting chemotherapy with Dr. Perez.
Her first appointment with was a memorable one. "I get freaked out in medical situations. I have since I was ten years old," Madelyn admitted. "I didn't quite pass out during the bone scan, but my body has a fight or flight response I can't control, and I felt like I was going to faint. Dr. Perez was very compassionate about it. He didn't think I was being a big baby."
Because Madelyn's cancer was stage I, six chemo treatments, plus 45 days of radiation, put her cancer in remission for 14 years.
In March of 2016, her left tonsil became enlarged, inconveniently just before a three-week trip east to kick off the celebration of her 50th wedding anniversary with friends and family. "I went to see my doctor. She did a strep test, but it was negative. Because we were leaving, she put me on antibiotics to see if that would knock it down." By the time Madelyn got back from her trip, the swelling had grown down to the root of the tonsil. A biopsy was performed and sent off to MD Anderson (Dr. Perez's alma mater) for analysis. It was non-Hodgkin lymphoma again. "This time, I was much calmer. I had been through it before and knew Jesus would be with me. Plus, Dr. Perez was his usual calm self."
Madelyn was eager to start treatment. "I told Dr. Perez, 'Let's just get this done. When can we start?' He said, 'How about this afternoon?' So we began."
After one round of five chemo treatments, there was notable improvement. "Dr. Perez was as happy as I was that my tonsil had already shrunk to its normal size," Madelyn said. "He smiled and shook my hand. He makes his patients a high priority and enjoys the small victories with us during treatment. I really appreciate that."
The Vein Whisperer
Beyond the oncology, Madelyn values the fact that Dr. Perez is also a board-certified hematologist. "If his staff has trouble avoiding the valves in the vein, which doesn't happen too often, they call in the Vein Whisperer—Dr. Perez. He finds a good spot for the needle very well and it doesn't hurt. I love that," Madelyn said. Despite her fear of medical procedures, Dr. Perez convinced Madelyn to get a port put in for her convenience. Because of her comfort level with him, she did.