---
Defining Community. Redefining Care.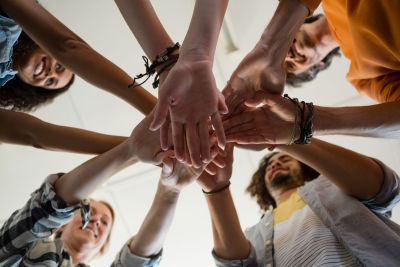 By its dictionary definition, a community is a group of people living in the same place or having a particular characteristic in common.
But, it is also a feeling of shared commitment, a responsibility to one another and the world around us. Community can offer a great fellowship where shared interests and efforts allow us to build greater resilience to our communal struggles, as we utilize our unique and individual strengths for the greater good.
To create a healthier future for our community in 2020, Carson Tahoe initiated the Community Partnership Fund. The investments made through this fund seek to promote health equity in our region, such that everyone has the same opportunity to live a healthy life regardless of socio-economic status. The fund prioritizes this access to healthcare services for underserved communities, addressing the root causes of persistent health problems and developing partnerships, which build our community's capacity to address persistent barriers to healthy living for everyone. It is through shared advocacy and action that impactful, lasting change becomes possible.
To achieve our mission of enhancing the health and well-being of the communities we serve, we worked in partnership and collaboration with our fellow neighbors, family, friends, businesses, government entities, and not-for-profit organizations.
Nourishing and Flourishing
In partnership with The Greenhouse Project, an agricultural and education-based non-profit, we have been able to provide more than 4,500 pounds of fresh produce to Meals On Wheels, a local organization providing fresh, nutritious meals to our ages 60+ population. Not only does this help provide nutrient-rich food to those that may normally struggle for access to fresh items, but it also helps build a healthier community by offering no-cost educational garden classes and connecting us to the soothing and healing powers of nature.
"Learning about sustainability and growing food on the individual level builds resilience on the community level – socially, economically, physically, and spiritually. Gardening and working with the soil has positive effects on brain chemistry, and we are all certainly aware of the current need and physical benefits of outdoor activities," said William Pierz, Assistant Manager of the Greenhouse Project.
We know the power of nature and its inarguably beneficial effects on the mind, body, and spirit. We also know how fortunate we are to live in such a beautiful, inviting, and recreationally abundant area of Northern Nevada. In an effort to help promote living a healthy and active lifestyle – as well as teach kids, families, and the community more about nature in our region – what better agency to collaborate with than Carson City Parks, Recreation, & Open Space? Through this ongoing partnership, Carson Tahoe was able to help provide kayaks, backpacking equipment, and snowshoes for its outdoor programs.
"People are overly excited about the prospect of these outdoor programs, and it's generating a lot of interest in the community. Because 2020 was such an indoor & isolated year, everyone is eager to get outdoors, from little kids to our seniors," said Dan Earp, Recreation Superintendent for Carson City Parks, Recreation, & Open Space.
Helping Our Community Breathe Easy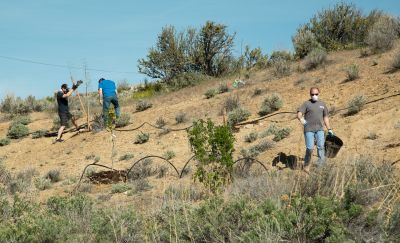 Rome wasn't built in a day, but thanks to the Carson City Chamber of Commerce Leadership Class of 2020, 25 new trees were planted along the hillside of the Foothill Garden on Arbor Day. To make this feat obtainable, Lisa Taylor, Ph. D, a member of the leadership class, jumped on board to write the grant. The goal? To provide structural stability to the hillside, while also attracting busy bees to our bee hotel, helping pollinate the plants inside our Foothill Garden and throughout our community. Together, class members, volunteers, and Carson Tahoe staff grabbed shovels, put on their gloves (and masks!), and maintained proper social distancing to help plant the trees. Beyond the beatification of the Serenity Trail, the additional trees support our overall goal to provide a healing environment for our patients.
"A tree has the ability to provide essential needs for all living things on our planet – oxygen and the power to remove harmful gases like carbon dioxide, making the air we breathe healthier," said Joanna Mounce Stancil, U.S. Forest Service.
The Season of Giving
As a not-for-profit 501(c)(3) corporation, we rely on our community's support for donations, and in turn, we are able to return the favor and give back. The holidays can be a difficult time for many, but thanks to caring staff such as Dee Tison from our nursing leadership team, Carson Tahoe Health had the opportunity to provide turkeys to our local Salvation Army chapter for their annual Turkey Drop for Thanksgiving.
"With Thanksgiving only days away, because of the pandemic, The Salvation Army was still 1,000 turkeys short, not enough to provide for our underserved in Carson and Douglas County. When the pandemic hit Carson Tahoe, our community came alongside us and provided help as much as they could. Donations of food, PPE from homes and small businesses, drive-by car shows, handmade cloth masks, rock art and handwritten cards were just a few examples of how our region showed its appreciation and support for us. It was now our turn to support our community, as Carson Tahoe donated funds to purchase over two hundred turkeys for those in need," said Dee Tison, Carson Tahoe Health Nursing Leadership Team. "I am proud to work for a hospital that takes actions and lives by its mission."
Last year was challenging in more ways than one, especially for our senior community. In an effort to spread some extra holiday cheer, we decided to help Santa and his elves collect gifts for 150 local homebound seniors. Although this is an annual effort, 2020, with is unprecedented challenges, was particularly important in giving gifts to our seniors, such as robes, slippers, and other much needed items during the winter months.