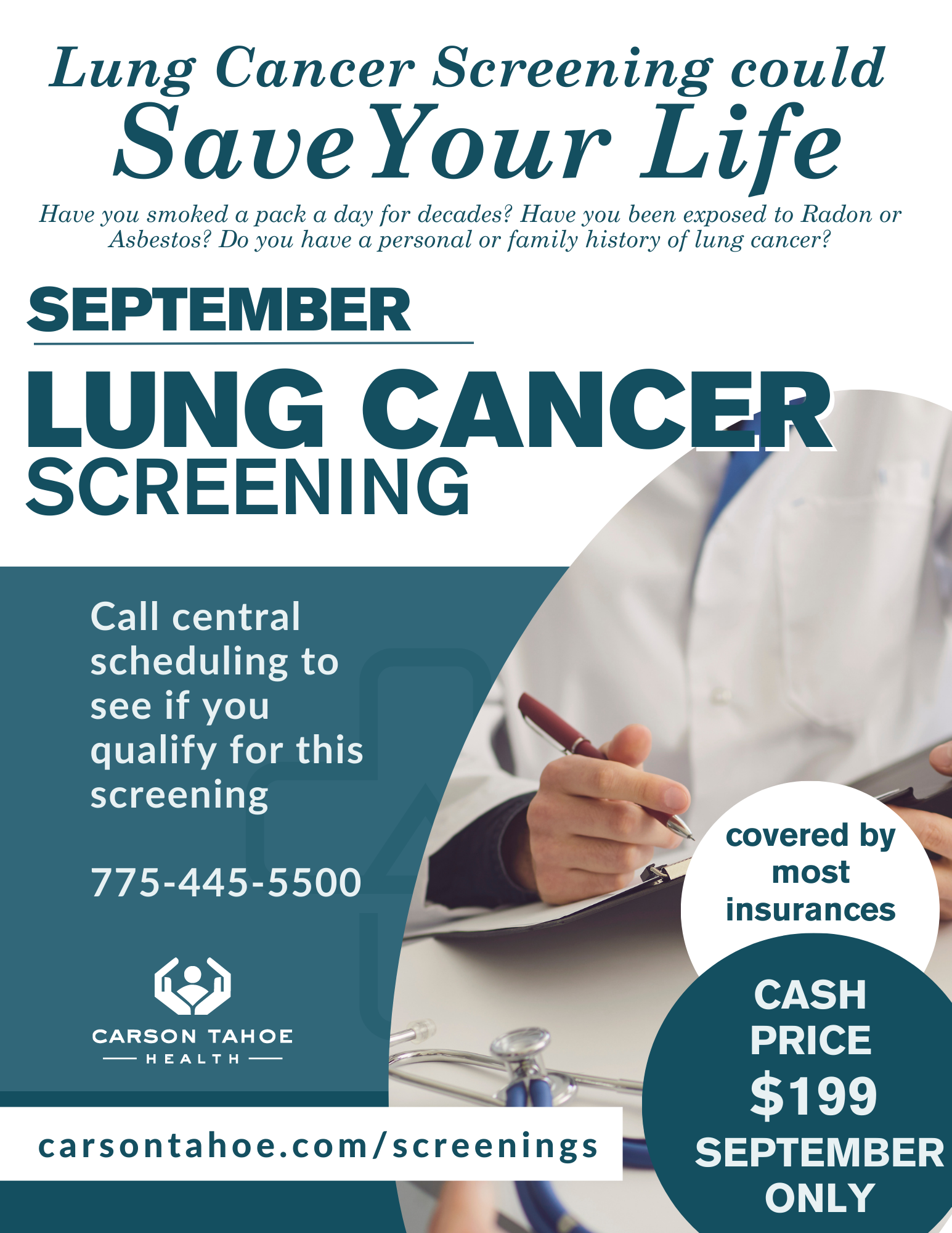 This September Carson Tahoe departments and physicians in Pulmonary Medicine, Oncology and Radiology have partnered to offer lung cancer screening using low-dose CT in individuals that meet certain high-risk criteria.
A lung cancer screening can save your life and offers many benefits, such as:
Detect lung cancers at an earlier stage which may lead to a decreased mortality
Streamline and improve care delivery and minimize unnecessary procedures if possible by helping the patient investigate abnormal results
Help guide patients to smoking cessation clinics or programs to decrease future risk of lung cancer, obstructive lung disease and decreased quality of life from possible smoking related illness
This Screening is open to people who have a history of smoking.
Call Central Scheduling to see if you qualify for this screening.
Screening Criteria
Patients eligible for lung cancer screening with low-dose CT scan must meet the following criteria:
Are between 50-80 years old, and
Are either currently smoking or have quit smoking within the past 15 years and smoked two packs of cigarettes per day for 10 years
OR
Are between 50-80 years old, and have smoked one pack of cigarettes per day for 20 years, and
Have one or more of the following risk factors:
Been exposed to radon, silica, cadmium, asbestos, arsenic, beryllium, chromium, diesel fumes or nickel, or
A personal history of cancer, or
Chronic Obstructive Pulmonary Disorder (COPD) or pulmonary fibrosis, or
A family history of lung cancer (1st degree relative)
Please note that if you have any of the following symptoms, you should be evaluated by your primary care physician or be seen for pulmonary consultation before scheduling an appointment with the Lung Cancer Screening Program: unexplained weight loss, chest pain, persistent cough or a cough that produces blood.
To enroll or schedule your appointment, contact Carson Tahoe Lung Cancer Screening Program at 775-445-5500. Patients will need to fill out a request form with demographics/history/PCP/symptoms/and reason(s) for wanting to enroll in the Carson Tahoe Lung Cancer Screening Program. Most insurances cover a lung cancer screening, however, if you choose to pay without using insurance, there is a September cash price of $199 which will be due at the time of service.